Turn Visitors Into Customers
Invest In A Custom Website
Attractive Responsive Websites 
—

Back End Functionality

—

Engaging Content
Full-Service Web Design
What does this mean? It means that TEVWEB Marketing specializes in front end design and photography and also collaborates with partners who do specialize in video production, graphic design, back-end development, SEO, hosting, and Google Adword Campaigns. Whatever you need, TEVWEB Marketing can manage your project.

Website Design
TEVWEB Marketing will make your website look eye-poppingly beautiful. With over 10 years of front end design and photography experience your website will attract customers and bring you more business.
Video Banners
Did you know video banners double lead conversion? They engage your website visitors even more and increase trust in your brand. I work with partners who are experienced in the motion picture world. 
Logo Design
In order to look professional and to be taken seriously by your customers, you need a professionally designed logo. I collaborate with graphic design professionals who are well-versed in the advertising world.

SEO
SEO, or Search Engine Optimization, is what makes your website come up in the top Google search results, ideally the first page. I work with industry professionals who specialize in keyword analysis and SEO.

Web Hosting
TEVWEB Marketing works with hosting partners to keep your site running secure and fast. It includes website security, an SSL certificate, daily back-ups, and automatic theme, plugin, and core WordPress file updates. 

Google AdWords
Google AdWord campaigns are place ads in search engine results and on non-search websites, mobile apps, and videos. TEVWEB Marketing collaborates with professionals to create these campaigns.
Recent Web Projects
Scroll through and click in to see some of the projects created by TEVWEB Marketing and partners.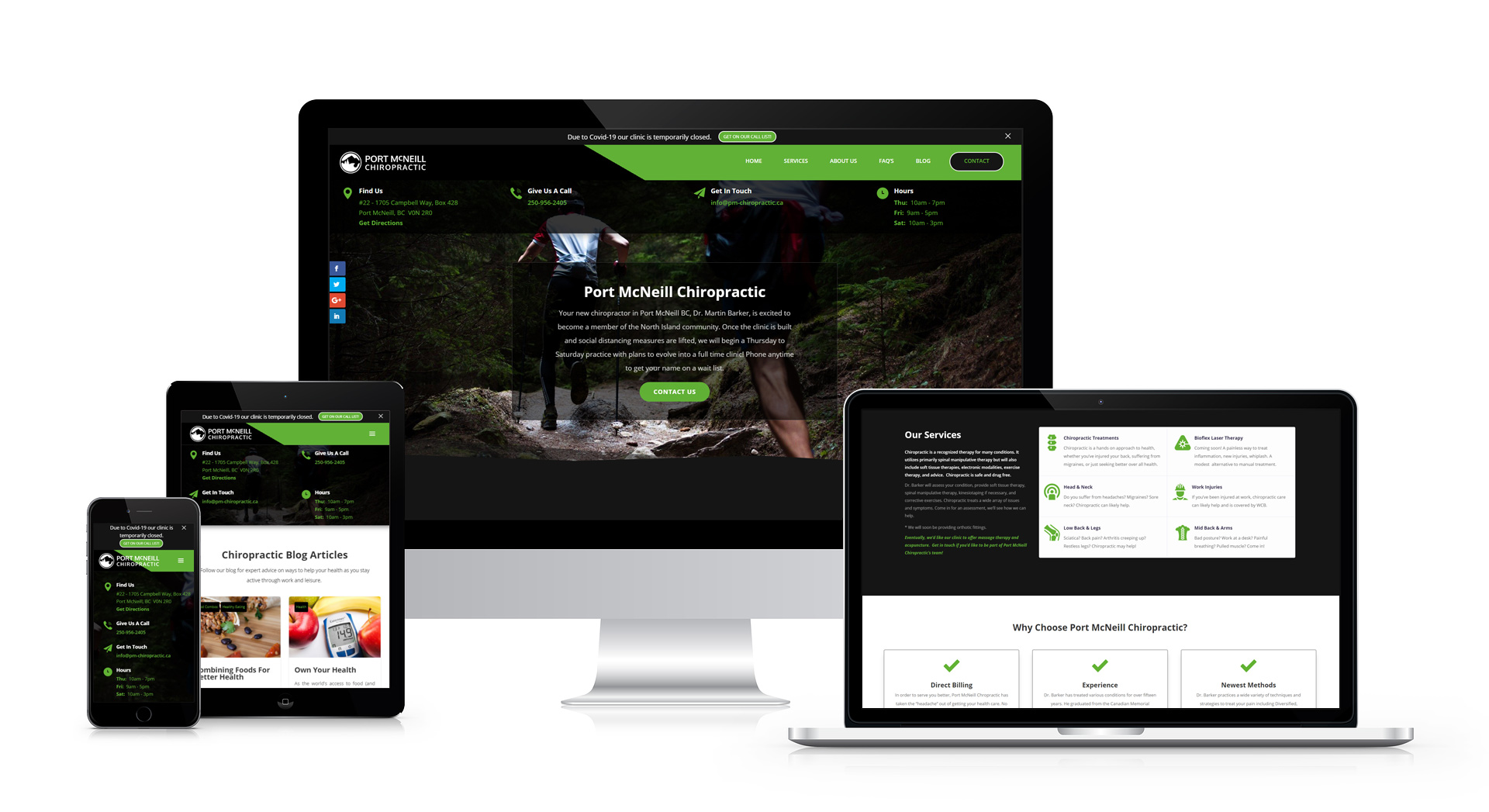 Port McNeill Chiropractic
Like what you see?
Let's talk about how we can bring your website to life!
Looking to upgrade your website? Let's discuss your project!
Providing Full-Service Web Design in the South Okanagan, BC